The most common procedures done in endodontic are pulp capping and root canal treatment (RCT). In root canal treatment, the diseased pulp is removed, whereas in pulp capping, it is retained. The teeth at the back of the mouth, a crown is commonly required to prevent the tooth from fracturing; heavy chewing on a root canal treated tooth should be avoided until a crown is fitted. A proper restoration after root canal treatment prevents leaks of bacteria into the tooth again and reduces the chances of needing retreatment of the root canals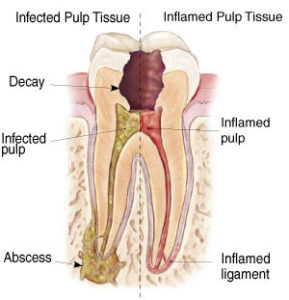 What Are The Benefits Of Endodontic Treatment?
Endodontic treatment saves teeth that would otherwise need to be extracted. Saving your natural teeth, if possible, is the best option. Occasionally a tooth cannot be saved. Endodontic treatment can be performed only if the root .
How Many Appointments Are Necessary?
Usually two or three visits are necessary. Sometimes it can be completed in one single visit.
How Long Will The Tooth Last?
With proper restoration and dental care such as proper brushing and flossing, regular dental check-up, it may last a life time. After the completion of endodontic treatment, your dentists will usually advise on a restoration, for instance a crown that protects the tooth from future fracture.
Is The Procedure Painful?
Endodontic treatment does not cause pain; in fact it relieves it. When you have a severe toothache, the toothache most likely is due to damaged tissues in the tooth. Endodontic treatment removes this damaged tissue from the tooth, thereby relieving the pain you feel.
Will There Be Pain After Procedure?
Cleaning the root canals may cause some slight tenderness but the discomfort can be relieved by taking some pain killers. If pain persists or if you experience severe pain, call your dentist.
Can The Endodontic Treatment Fail?
Endodontic treatment can have success rate of up to 90% in general. However failure can occur if:
The affected tooth develops decay
The restoration on the tooth fails;
The tooth cracks