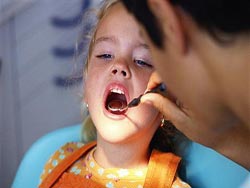 A child's first visit to the dentist should be enjoyable and positive. The more you and your child know about the first visit, the better you will feel. Children are not born with a fear of the dentist, but they can fear the unknown. Our office makes a practice of using pleasant, non-frightening, simple words to describe your child's first dental visit and treatment. We want you to feel at ease from the moment your family arrives at our office.
Preventing Tooth Decay
Tooth decay is preventable. Tooth decay is caused by sugars left in your mouth that turn into an acid which can break down your teeth. Children are at high risk for tooth decay for a simple reason — many children and adolescents tend to be lax in their oral hygiene habits. Proper brushing and flossing routines combined with regular dental visits help keep tooth decay away. A low-sugar diet also helps keep tooth decay at bay.
When New Teeth Arrive
Your child's first tooth erupts between ages 6-12 months and the remainder of their 20 primary or "baby" teeth typically erupt by age 3. During this time, gums may feel tender and sore, causing your child to feel irritable. To help alleviate this discomfort, we recommend that you soothe the gums by rubbing a clean finger or a cool, wet cloth across them. You may also choose to make use of a teething ring.
When Should I Schedule My Child's First Visit To The Dentist?
We recommend that you make an appointment to see the dentist as soon as your child gets his first tooth. The American Academy of Paediatric Dentistry recommends that a child is seen by 6 months after his/her first tooth erupts or by 1 year old, whichever is first.
What Happens During My Child's First Visit To The Dentist?
The first visit is usually short and simple. In most cases, we focus on getting to know your child and giving you some basic information about dental care. The doctor will check your child's teeth for placement and health, and look for any potential problems with the gums and jaw. If necessary, we may do a bit of cleaning. We will also answer any questions you have about how to care for your child's teeth as they develop, and provide you with materials containing helpful tips that you can refer to at home.
How Can I Prepare My Child For His First Dental Appointment?
The best preparation for your child's first visit to our office is maintaining a positive attitude. Children pick up on adults' apprehensions and if you make negative comments about trips to the dentist, you can be sure that your child will fear an unpleasant experience and act accordingly. Show your child the pictures of the office and staff on the web site. Let your child know that it's important to keep his teeth and gums healthy, and that the doctor will help him do that. Remember that your paediatric dentist is specially trained to handle fears and anxiety, and our staff excels at putting children at ease during treatment.
How Often Should My Child Visit The Dentist?
We generally recommend scheduling checkups every six months. Depending on the circumstances of your child's oral health, we may recommend more frequent visits Baby teeth aren't permanent.
Why Do They Need Special Care?
Although they don't last as long as permanent teeth, your child's first teeth play an important role in his development. While they're in place, these primary teeth help your little one speak, smile and chew properly. They also hold space in the jaw for permanent teeth. If a child loses a tooth too early – due to damage or decay – nearby teeth may encroach on that space, which can result in crooked or misplaced permanent teeth. Also, your child's general health is affected by the oral health of the teeth and gums.
What's The Best Way To Clean My Baby's Teeth?
Even before your baby's first tooth appears, we recommend you clean his gums after feedings with a damp, soft washcloth. As soon as his first tooth appears, you can start using a toothbrush. Choose a toothbrush with soft bristles and a small head. You can most likely find a toothbrush designed for infants at your local drugstore.
What Causes Cavities?
Certain types of bacteria live in our mouths. When these bacteria come into contact with sugary foods left behind on our teeth after eating, acids are produced. These acids attack the enamel on the exterior of the teeth, eventually eating through the enamel and creating holes in the teeth, which we call cavities.
How Can I Help My Child Avoid Cavities?
Be sure that your child brushes his teeth twice a day with fluoride toothpaste. Flossing daily is also important, as flossing can reach spots between the teeth that brushing can't. Check with your paediatric dentist about a fluoride supplement which helps tooth enamel be harder and more resistant to decay. Avoid sugary foods and drinks, limit snacking, and maintain a healthy diet. And finally, make regular appointments so that we can check the health of your child's teeth and provide professional cleanings.
Does My Child Need Dental Sealants?
Sealants cover the pits and fissures in teeth that are difficult to brush and therefore susceptible to decay. We recommend sealants as a safe, simple way to help your child avoid cavities, especially for molars, which are hardest to reach.